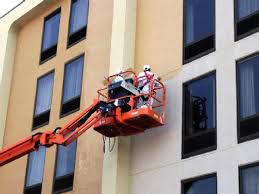 FSG Felix Salinas has established relationships with the owners and managers of several local municipals, apartments, and offices complexes to provide commercial painting services that exceeded their expectations at affordable prices. Our customers continue to use our services year after year because we are a team of professionals that understands the needs of the property management and construction industry, and meets or exceeds the demands of our customers. Whether you own a small shop, apartment complex, or several properties, you can expect us to be efficient, reliable, and accommodating of your needs. FSG is about more than ensuring your satisfaction at the end of the it is about making our customers life easier throughout its duration.
Exterior Painting
With our expertise in paints, stains, and high-performance industrial coatings, you can expect a durable finish that lends beauty and distinction to your building.
Interior painting
We ensure that there is minimal disturbance or disruption to normal business activity during any project. Cleanliness, courtesy, and discretion are what is required from all of our commercial painting staff.
A.D.A Compliance Specialists
Constant changes with A.D.A parking codes create difficulty for property managers and property owners to know which requirements are needed to bring their disabled parking lot striping and accessibility to current compliance. However, maintaining disabled, or handicap, parking is very important for property owners and managers to avoid costly lawsuits. FSG can help you navigate through basic A.D.A parking lot striping compliance, including line painting, handicap sign installation, pavement painting and fire lane painting.
We possess the ability to stripe your handicap stalls to code and install the proper handicap signs to pass inspection. We have acquired valuable experience and helpful tools to complete A.D.A projects in a timely manner. Whether you have a handicap striping or ADA sign issue we can assist you with information or reference to get the answers you need.