Felix Salinas Group is a Brum Railing Specialist offering a complete line of railing systems suited for all commercial applications. Our railing systems were developed to complement any architectural style. Whether you require a contemporary or traditional style railing FSG has the answer for your needs.
Hospitals
Sport Arenas
Hotels
Restaurants
Commercial Office Buildings
Cable Railing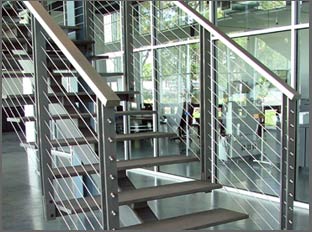 Cable Railings are a new trend for the simple sleek modern look. It allows for an unobstructed view with a strong design. All cables are constructed out of stainless steel materials for a maintenance free system that will last for a lifetime of use. Like all of our different railing styles, it is available in all four post/rail configurations.
We strive to offer only the highest quality hand railing system with little to no fabrication involved.
All of these extra benefits we provide to every customer are the best way to ensure you receive the quality and safety you deserve.
Glass Railing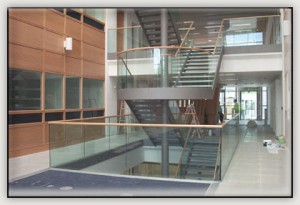 Our glass railing is among the strongest and safest on the market. With areas of great scenic beauty this is the ideal choice. Glass railing systems also serve great as wind breaks.
The glass is composed of 1/4″ thick tempered safety glass with a full 1 1/2″ tall decorative aluminum frame. This leads to a very strong and attractive rail. Most glass railings you find today are not framed, the glass is simply slid into the top and bottom railing caps. This leads to exposed sharp edges of the glass on each side and minimal support of the glass if it were to get hit. Glass railing systems are increasing in popularity fast. It greatly increases the view off the deck when sitting or laying.
Decorative Railing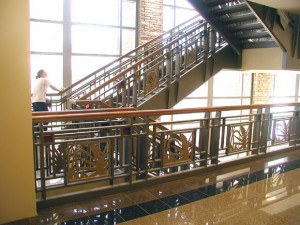 Felix Salinas Group offers several different decorative styles that can be added to spice up any standard aluminum picket railing. Our line of decorative scrolls will add that elegant touch to your commercial property.
All of our styles consist of aluminum and stainless steel construction for a lifetime of use and beauty. The decorative scrolls were designed upon their popularity and looks, then cast for our railing profiles.